Hey pretty mummas!! Amongst all the inventions by the mankind, wet wipes are the most functional utility product for us moms. Agree? Well, I can say it for myself. As a mom of two super active kids, I need wet wipes every other minute, whether in the house or outdoors. They have the most versatile usage and come handy in every messy situation anytime and anywhere.
However, choosing right kind of wipes is extremely necessary considering the daily and frequent usage. But do we really know about our wipes? Do we know what they are made of? Do we know what goes inside them and makes them wet? Not really, because every brand promises that it's safe for our children.
There are so many brands out there in the market that it becomes confusing to determine which one is safe and which one is not.
The fabric of some wipes has a high percentage of polyester
Some have harsh chemicals and preservatives
The high amount of synthetic material and chemicals make them non-biodegradable
Synthetic material and harsh chemicals irritate the baby's soft skin and cause rashes
 Introducing, Mother Sparsh Baby Wipes that are India's first water-based wet wipes made with natural plant fiber and contain 98% water.
Clinically proven to prevent diaper rashes
Made from Viscose which is 100% plant-based fabric giving it a velvet soft touch
No harsh chemicals
The wipes are fully-biodegradable
Wipes contains Organic Aloe Vera
Flame Test for Mother Sparsh Baby Wipes
This Flame Test is done to differentiate between Mother Sparsh wet wipes with other brands. In the test, the ordinary wipe should leave a residue of the texture and odour that resembles molten plastic; whereas, Mother Sparsh wipes should burn without any odour and leave no residue. The test should prove that the ordinary wipes are harmful and Mother Sparsh wipes are safe.
I was contacted by Mother Sparsh to test their wipes and validate their claim. When I performed the test, the burnt ordinary wipe had hardened residue and smelt like molten plastic. However, the Mother Sparsh wet wipe burnt like cotton and had no odour. I will be uploading the video soon on my Instagram and Facebook.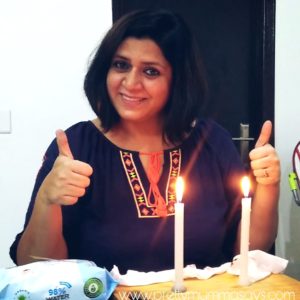 Mother Sparsh wet wipes passed the flame test proving to be a safe choice for kids.