We all are born with the gag reflex. It's our body's first automatic response to protect from choking. If your toddler gags while eating food then it may be because of his sensitive gag reflex. This can be very stressful for parents and tormenting for children. Gag reflex may make your child disinterested in food leading to difficult food habits in the future.
What Causes Gag Reflex?
Children with sensitive gag reflex tend to gag on food more easily than other children. Sometimes gagging may also lead to vomiting.
Toddler and young children usually gag on food when they are in hurry to finish their food so that they can return to what they were doing before eating food. Instead of chewing they try to swallow food as it is or with little chewing effort, leading to the gag reflex.
Distractions like watching TV, reading or talking can also lead to gag reflux.
Big bites of food or mouth stuffed with food with a little scope of chewing food may make children swallow food without breaking it down resulting in the gag reflex.
Slow eaters tend to keep bites in their mouth for a long time, hence making then gag.
Children born with GERD are prone to having a gag reflex in young age.
Children who have delayed development of motor skills often have a delay in chewing skills.
Children also gag if they don't like the taste or texture of food.
Difference Between Gag Reflex and Problem With Swallowing
Usually, it's very common for parents to assume that gag reflex while eating is associated with the problem in swallowing food. However, there is a vast difference between a gag reflex and swallowing problem:
Children who have a very sensitive gag reflex will gag when food is still in their mouth, even before they try to swallow the food. This occurs when the food is near the front, middle or back of the mouth.
Children with a swallowing problem may gag or choke after the food has been swallowed.
What Can You Do To Prevent Gag Reflex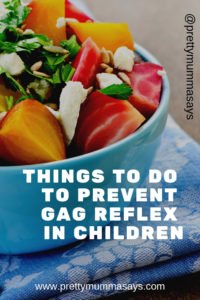 Serve your toddler's food into bite-size pieces.
Avoid giving foods that are hard to chew and easy to choke on, such as whole grapes, matthi, apple, pear, raisins, popcorn, olive and nuts.
Don't try to get your child to eat more than he's inclined to.
Encourage your toddler to not to run around with food in his mouth. Make him sit in a place and let him have his food. Consider investing in a high chair or fix a place for eating meals.
Teach your child to eat one piece of food at a time. Remind him to chew the bite thoroughly and swallow before taking the next one.
Stay with your child while he is eating. If Your child tends to gag when he gulps liquids like curd, soup, curry or dal with food, offer him a drink after he's swallowed the bite.
As your toddler grows, he will figure out eating, chewing and swallowing food without gagging. However, if his gagging or choking on food doesn't fade away, discuss with a doctor to check for any physical problems.
Like what you read? Comment below and share it!
---
I am taking my blog to next level with My Friend Alexa.