Digital Marketing for Small Businesses is an extremely handy guide for those individuals and small businesses who want to understand the basics of digital marketing. It is written by Neha Tambe who is a social media marketing expert and a blogger. Written in a very simple language, I found her ebook very easy to understand.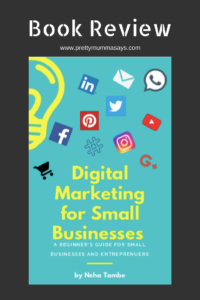 Neha has given some good ideas and suggestions revolving around the hottest medium of marketing these days, i.e. digital marketing. She has covered all the social media marketing channels like Facebook, Instagram, Twitter and Youtube. She has also discussed other internet marketing tools like emailers, etc.
Her e-book is also very helpful for small businesses, ebusinesses and bloggers who want to understand the essentials of SEO for their websites and blogs. Every chapter talks very concisely about the digital marketing tools one by one and how can they be used for scaling up the business.
The only shortcoming of the ebook has been in the illustrations. The illustrations used in the e-book are not legible. Most of them are hard to read due to very small text. The graphics become blur upon zooming and it's really difficult to understand what's written.
Other than the above, I quite liked Digital Marketing for Small Businesses as it is loaded with valuable ideas and it throws light upon best practices for digital marketing as well. This exclusive ebook is free to download. You can grab your copy from here.
---
This post is published for #OpenNTalk Blogger's League hosted by Gleefulblogger & Wigglingpen in association with SummerBarn, Vedantika Herbals, Nyassa, Explore Kids World
I am from Team number 5 – Roaring Tigresses #roarwillrock. Keep coming back, as me and my team will be writing on a wide spectrum of subjects throughout the month of June. Introducing my other team members:
Mayura www.diaryofaninsanewriter.com
Surbhi www.surbhiprapannablogs.blogspot.com/
Riddhi Jhala www.ritzyglitzy.in/
Gurjeet www.prismaroundgurjeet.com/