Hey pretty mummas!! I have just returned from a road trip of 11 days covering 4500kms (approx 2800 miles) and crossing 6 states. It was marvellous and tiring, of course. Without being modest, I totally pat my and my husband, Sumit's back for doing this. We planned for this trip in two days, packed and left.
Taking a roadtrip with two small kids is not easy.
It needs guts, I am being told and I agree.
Since it was a very long drive from Noida (Delhi NCR) to Goa, I had to keep a lot of stuff handy. A lot of things I kept within my reach so that we don't have to stop the car on the highways to take anything out of the bags. It took us 3.5 days to reach Goa because we took a couple of detours to just enjoy the drive and see new places. So, now you can imagine how much stuff we had to take with us.
We take smaller road trips quite frequently and this was our second long-distance road trip. With my experiences and learnings, I am sharing some very useful travel hacks, especially for moms. These will make your travel a little easy and hassle-free.
Ultimate Travel Hacks for Moms
Arrange a small travel bag
Other than the bags or luggage you pack for the destination, pack a separate bag just for the journey. Keep that bag within your reach, if possible. In case your child spills food or soil his clothes, you can immediately take out a fresh pair and change the clothes on-the-go.
Pack a travel pouch
Make a pouch of things which will come in use at every stop you make. These are some hygiene essentials and some basic makeup essentials to perk you up and keep you ready for the photographs. For ex.:
A hand sanitizer
A handwash or a few packs paper soaps
A small pack of dry tissues
Toilet seat sanitizer
A perfume/mist
A face mist or a small pack of facial wipes
A moisturiser
Vaseline petroleum jelly
A lip balm
Kohl or Kajal
A comb
A small scissor and a nail cutter
Periods?
If you think you might get your periods during the journey, carry the sanitary napkins and keep them in the diaper bag. On the day of the heaviest flow, use a diaper instead of a sanitary napkin. Surprised? Try it at home and thank me later! A diaper is longer and has more soaking capacity than a sanitary napkin. Since you'll be sitting for the long durations during the journey, don't worry about the diaper getting displaced. No wings, no rashes.
Don't carry a lot of books or toys
Just keep your child's favorite toy, a few extra ones which you think will keep your child busy for some time and 3-4 books. Your child will be either sleeping or be looking outside mostly. To keep him busy, keep showing him things outside or play his favourite rhymes on the music system.
Carry limited food items
Considering you are on a long drive, you would not want your child to feel uneasy because of indigestion, less water intake and upset stomach. Make your child eat light throughout the journey. Give small portions frequently or on demand basis.  But when it comes to the main meals, make them eat dal-roti-veggie if you are not averse to making your child eat at dhabas or motels. It'll keep the motions in check and won't constipate because of low water intake.
Pack the diapering essentials in a separate bag
If your baby is on diapers, pack his diaper bag with all the diapering essentials. Keep it within your reach if possible. If you buy the big pack of diapers, then keep atleast 10-12 diapers in the diaper bag. Keep the big pack in the boot. Carry an extra pack of wet wipes and diaper rash cream. If you run out of diaper rash cream during the journey, use vaseline or coconut oil.
Nutrition during journey
To keep your and your child's fiber intake in check during the journey, it's best to take fruits. You'll find fruits everywhere. Pack a plate and a knife alongwith the other food items. Homemade nonperishable snacks are always better than biscuits and chips.
Entertainment
Download lots of music and movies on your phone, CD or pen drive. There might be highway stretches with no radio signal. Your favourite music will lift up your spirit and make the drive more enjoyable.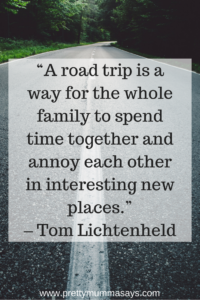 I hope you find these hacks useful and practical. Do you have something to add to this? Any hacks that you know, do share with me in the comments. I would love to know more tips and hacks and prepare better for my next road trip.
– xo
Pretty Mumma
---
This post is published for #OpenNTalk Blogger's League hosted by Gleefulblogger & Wigglingpen in association with SummerBarn, Vedantika Herbals, Nyassa, Explore Kids World
I am from Team number 5 – Roaring Tigresses. Keep coming back, as me and my team will be writing on a wide spectrum of subjects throughout the month of June. Introducing my other team members:
Mayura www.diaryofaninsanewriter.com
Surbhi www.surbhiprapannablogs.blogspot.com/
Riddhi Jhala www.ritzyglitzy.in/
Gurjeet www.prismaroundgurjeet.com/